Folding Bikes Reach Mainstream
by Larry Lagarde
Two excellent ways to measure when a product has hit the mainstream are police reports and the actions of an industry's major manufacturers. This week, we have examples from both arenas concerning folding bikes.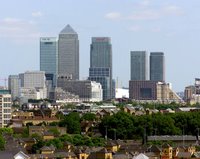 There was a report yesterday that police in London have issued an alert to folding bike owners in the Canary Wharf area (London's hip new banking & financial district). A number of folding bike riders have been jumped and attacked for their bikes. The police are stepping up patrols and reaching out to cyclists to be more alert.
2nd Cannondale Folding Bike Concept
Cannondale has released a second, ground breaking, full size, folding bike design concept via masters students of Eco-design at the Elisava Escola Superior de Dissseny in Barcelona, Spain (the same place Cannondale's Jacknife came from).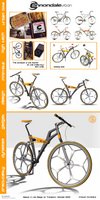 Known currently as the Plafon, this folding bike appears destined for Cannondale's
Urban bicycle line
. The design sketches show the bike equipped with an internal rear hub so there has been speculation that the Plafon is Cannondale's answer to Shimano's push for
Coaster bikes
.
Given the bike's edgy looks and front/rear disk brakes, I see the Plafon appealing to bicycle messengers and/or upscale urban cyclists, not bicycle newbies (which are what Shimano is going after). With a carbon fiber frame, this bike will not be cheap either.